Blog 2 – Gloucestershire's Newest Superstar and The build up to Russia
Welcome to week 2 of our blog! This week's blog brings us to a fascinating conversation with Gloucestershire all-rounder and new boy Ryan Higgins about life in Bristol and his career so far. Born in Harare, Zimbabwe, Higgins moved with his family to Newbury where he plied his trade with Middlesex before moving to Gloucester in October. Higgins, 23, has quickly cemented himself into the first team as well as becoming a hit with the fans after his electric early performances which have seen him average a strong 29 with the bat and a fantastic 16.39 with the ball. No one figures higher on both lists in either of the LV County Championships this year.
The man in question – Ryan Higgins 
Speaking on his move back west from London to Bristol he looks on it fondly "People call Bristol a little London, but I couldn't disagree more. Compared to the traffic around London this is nothing" he remarks gesturing to the traffic along the famous Gloucester Road. "To have the city environment so close to the countryside is fantastic and I'm really excited to explore all that this area has to offer." Prior to the move Ryan's previous trips to Bristol had all been to play cricket, not allowing much time for sightseeing.
However, it was these trips along with the prospect of more first team opportunities that prompted the move, "the atmosphere at the Brightside is completely different to at Lords. It's a lot more personal and there is more of an opportunity to get to know the regulars, something that was harder to do during my time at Middlesex. I was lucky enough to play at the Cheltenham Cricket Festival last year (his fantastic knock of 68* off 28 balls played a large part in Gloucestershire's interest in him). Playing there was totally different from anything like I had experienced before. I spent large portions of the game fielding on the boundary and there was no sledging or grief, it was just people enjoying good cricket."
The Cheltenham Cricket Festival has always been a large part of the calendar for Gloucestershire. It's now the longest remaining cricket festival in the world, with Gloucestershire cricket first being played there in 1872. Talking about the prospect of playing for the home side in this year's edition, Ryan's excited to be out there "going to Cheltenham as part of the home side is a privilege that not many players receive in their career, and I'm relishing the opportunity. If I go as well in our two Vitality blast outings this year (V Essex and Glamorgan) as I did last year, I'll be buzzing!"
"The atmosphere at the Brightside is completely different to at Lords, its a lot more personal"
It's been a tough start to Gloucestershire's season as a whole thanks to injuries decimating their bowling attack and forcing popular overseas Dan Worrall to return back to Australia early. This, coupled with the weather impacting their One Day campaign has limited the club's ability to show its true potential thus far in 2018, a sentiment echoed by Higgins, "it's a real shame. The changing rooms buzzing, we've got a great group of young lads who all have 5 or 6 years of first class experience behind them. As a unit we know that the sky's the limit in terms of what we're capable of, and we just want to show that to the cricketing world." With the Vitality Blast just around the corner and a team which consists of players well suited to the format, Gloucestershire have every chance of being more than competitive in the shortest version of the game.
Even with plenty of years left in the tank on the cricket field, Ryan's started to prepare for life away from the willow as he is working his way through a Business and Sports Management degree with the Open University. "Coaching isn't for me, i'm an awful watcher at the best of times and I'd find it too hard not to get involved. I've only ever worked two weeks in my life away from the cricket pitch, in a bar in New Zealand, my fiancee told me I'd hate it and I have to say she wasn't wrong. It was a blessing however as it focused my mind in my cricket career and I'm grateful for that!"
"As a unit we know that the sky's the limit in terms of what we're capable of!"
Its an exciting time for Ryan as he's due to move into his new house in the beautiful Keynsham area within a few weeks, "Hanks (teammate George Hankins) has recently moved to the area, and its becoming a good community of the boys out there. It's nice to be out of the centre to enjoy the quiet but there are plenty of trains so you can get in easily to meet everyone else." Although as everyone whose brought a new development before knows its never as straightforward as it seems, "we went to have a look the other weekend and they'd put the kitchen units in in the wrong colour, so that pushed us back a week or two. We have everything raring to go and we're excited to put our own stamp on it!" Of that we have no doubt. He's put his stamp on this season be it through flamboyant one day performances or gritty 4 day games, and he will surely continue to be a firm fan favourite for years to come!
Higgo certainly isn't the only one to be looking ahead with a fantastic summer of sport ahead. Asked who he's backing for the World Cup he said it "has to be England". However, he gave the same answer for who his outsider for the tournament is to! Not a sentiment you can argue with. Note the (almost) seamless link into part 2 of this week's edition, and that is our look-ahead to Russia.
Russia 2018
The wait for this year's tournament is almost over, with under a week now until the tournament gets underway. As is oft the case, this year promises to throw up a few unforeseen shocks to some of the major nations that not even the bravest of tipster could foresee. On first view, England's group (containing Tunisia, Panama and Belgium) should be easily navigated, yet on the biggest stage nothing is out of the question!
You have your old guard, like the South American contingent of Brazil and Argentina. Firstly, Brazil who are looking for revenge from the humiliation they suffered at the hands of the Germans in their own back yard four years ago. Then Argentina, Lionel Messi's international career has not lived up to the grandeur of his club career, but it wouldn't be out of the question for that to change in Russia. It seems a stretch too far to envisage either Chile or Uruguay lifting the trophy but if their individual stars turn out then it might not be totally out of the question.
How about the European contingent? Germany went a perfect 10 from 10 in the qualifiers and you'd be a brave man to bet against them keeping this up through the competition proper. On paper France probably has the most stacked team when it comes to depth at every position, but as we know football matches aren't won on paper. Belgium, England's group E compatriots, have a team of individuals that most sides would envy however it has been questioned whether they can perform as a unit when it matters most. But what about England themselves? As a team they are constantly tipped for the top but as the golden generations of the last 20 years have proven the only thing that matter is getting over the line. With Harry Kane spearheading the attack and mercurial talents like Raheem Sterling and Deli Ali feeding him, everything is possible, but perhaps most importantly its managing expectations which is vital to their success. Gone are the old faces as its a new era of England side bound for Russia under Gareth Southgate's stewardship this summer. Playing (hopefully) a brand of football where they can express themselves and not be bogged down by the apparent fear of failure which previous generations were stymied by.
Can Harry Kane fire the Three Lions to glory in Russia?
But what lies beyond the big boys of world football? Where does the value lie in an outside bet? A side like Croatia which is stacked with talent in midfield (Messers; Modric, Kovacic and Rakatic) could be a solid outside bet to progress a long way in the tournament. Looking back to Euro 2016 they outplayed Spain in what many experts said was the performance of the tournament, and were only beaten by eventual winners Portugal. However unfortunately for them they appear in this year's "group of death", home to one of the pre-tournament favourites Argentina, England nemesis Iceland, and the team winning the best kit award, Nigeria. Navigate this and who knows where their tournament could end up!
Could the "Blazers" of Croatia be a healthy 33/1 outside bet?
How about some interesting stats before this years world cup?
– Under new coach Aage Hareide, Denmark are currently unbeaten. No one tipped them for their sole Euro's triumph so they do have pedigree at the highest stage.
– After 2018, we only have the 2022 tournament before the World Cup expands to a 48-team showcase.
– As remarkable as it seems after their heroics against England, its the minnows from Iceland's first world cup appearance. Panama are the only other team making their world cup debut this time around.
– This isn't an easy world cup for the fans. The distance between the Easternmost and Westernmost stadiums is as far as from Moscow to London!
– Belgium's last 8 world cup goals have all come after the 70th minute… Perhaps something for England's coaching staff to consider!
– This is the first world cup to take place across two continents, England and Asia
And to end on my personal favourite:
– Iceland's goalkeeper, Thor Halldorsson is also one of the country's most famous filmmakers. He even made the music video for Iceland's 2012 Eurovision entry. What a talented man indeed!
The man of of many talents, Thor Halldorsson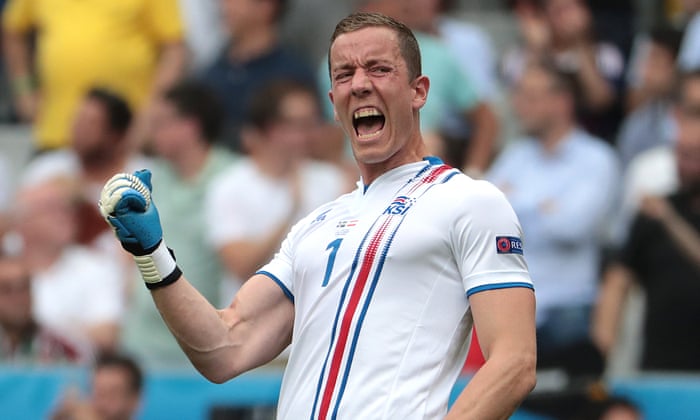 We are  sure that all those in attendance will have a fantastic time and make memories that will last a life time. We also want to stretch our personal to thanks to Ryan Higgins for the time spent, and who knows, with his studies perhaps he will be a future guest editor for this blog? Join us the same time next week as we look ahead to Ascot and Wimbledon!
Get In Touch About Event